The Personal Radio is a utility added in the 1/15/14 update. These can be used to listen to classic music tunes.
The radio can be turned on and off by pressing "toggle" after clicking on the radio. The radio will play static for about 30 seconds, then a song will come on. After a few minutes, the song will fade into static, and the cycle will repeat. Between every two - three songs small talks recorded by Gus and ZolarKeth will be played, similar to real life radio stations. Radios are completely local, as such they cannot be heard by anyone but the user and at any given time it is very unlikely that two radios will be playing the same broadcast (with the exception of radios near Trinity Headquarters). The radio is a reference to DayZ.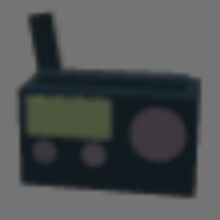 Numbers Transmission
The radio will play random numbers followed by Morse code.
The numbers are
048107 048107 049047 049047 034051 034051 023107 023107 022110 022110 017121 017121 054074 054074 063087 063087 040093 040093 039108 039108 036091 036091 032090 032090
The radio message and numbers are a reference to DayZ, where the same thing happens. The sequence of numbers are grid references which correspond to the location of deer stands throughout Chernarus, which is a place in DayZ.
This could also be a reference to a Soviet Radio Channel called UVB-76, Also know as "The Buzzer". This radio station plays on a frequency of 4626 kHz, And it relays cryptic messages where the names "Mikhail, Dimitri, (Zenyeb), (Baryeep), Mikhail, Dimitri, (Zenyeb), (Baryeep)" With the numbers "4,6,7,5,3,2,3" playing with russian language are said with a monotonous buzz playing.
Trinity HQ Transmission
If you have your radio turned on near the Trinity HQ, the radio will change from it's normal playlist to a transmission that initially plays a heavily distorted tune, followed by random numbers said by a deep male, un-synthesized voice (code listed above), then Morse code, and ending with the tune. The Morse Code translates into this: We are no longer alive. STOP MESSAGE. This message will play every hour if operators are no longer responsive. STOP MESSAGE. Unable to quarantine subject change. STOP MESSAGE. This may be a reference to Patient Zero, as it was revealed that P-0 was the first subject to the virus.
Spawn Locations
Personal Radios have a rare drop rate. The radio is somewhat most common in Union Square, but have spawned in Police Stations, Fire Stations, Trinity HQ, Military Tents, and on roads near Korri and in Mason.
Songs
The Radio currently plays 25 different songs.
Mc Hammer - "U Can't Touch This"
Wang Chung - "Dance Hall Days"
Queen - "Don't Stop Me Now"
Rick Springfield - "Jessie's Girl"
Hall & Oates - "Out of Touch"
Michael Jackson - "Thriller"
Guns N' Roses - "Welcome to the Jungle"
Twisted Sister - "We're Not Gonna Take it"
Asia - "Heat of the Moment"
Cutting Crew - "(I Just) Died in Your Arms"
Boston - "More Than a Feeling"
Beatles - "Revolution"
Journey - "Seperate Ways (Worlds Apart)"
The Outfield - "Your Love"
Simple Minds - "Don't You (Forget About Me)"
Flashdance - "What a Feeling"
Whitesnake - "Here I Go Again"
Toto - "Africa"
Men at Work - "Down Under"
Men Without Hats - "Safety Dance"
Creedence Clearwater Revival - "Fortunate Son"
John Lennon - "Imagine"
Bee Gees - "Staying Alive"
Earth, Wind & Fire - "Let's Groove"
Marvin Gaye - "Mercy Mercy Me (The Ecology)" (1971)
Song suggestions
Here, you can post your ideas to put on the Personal Radio. A song from any era will count, as long as it's not porn music and/or it has swearing. If it has cuss words in it, and/or it's pornographic, it will be deleted. Try to suggest songs that you would hear in a zombie or apocalypse game. Also there is a high chance that they will not get put in.
New York Mining Disaster 1941 - Bee Gees
Hall & Oates - Maneater
Men At Work - It's A Mistake
Jimi Hendrix - All Along the Watchtower
The Doors "Riders On The Storm"
"Revolution No.9" By the Beatles,
Andy Williams- "Danny Boy"
"The Hearse Song"
"Bulldog" -The Beatles
Pink Floyd- "Another Brick in the Wall"
The Specials - Ghost Town
Hungry Like The Wolf - Duran Duran
We Will Rock You - Queen
Another One Bites the Dust - Queen
Stairway to Heaven - Led Zeppelin
I'm Only Sleeping - The Beatles
Being for the Benefit of Mr.Kite - The Beatles
Purple Haze - Jimi Hendrix
Helter Skelter - The Beatles
We Built This City - Starship
All my Life - America
Immigrant Song- Led Zeppelin
For What It's Worth- Buffalo Springfield
No More Mr. Nice Guy - Alice Cooper
Let's Dance - David Bowie
I Got you Babe - Sonny & Cher
School - Nirvana
Hey You - Pink Floyd (Disregard the animation. Just listen to the music.)
Iron Man - Black Sabbath
The Show Must Go On - Queen
Kansas - Carry On My Wayward Son
Styx - Renegade
Highway To Hell - AC/DC
Paint it Black - The Rolling Stones
Tom Sawyer - RUSH
2112 Overture - RUSH (full song if possible-20 mins long just search 2112 - RUSH)
Test for Echo - RUSH
Limelight - RUSH
Freewill - RUSH
Bohemian Rhapsody - Queen
Byron Mr. Talkbox Chambers - Ground Zero
To The Sky
Blue Oyster Cult - (Don't fear) The Reaper (1976)
Zombie-Cranberries (Fits every description except for time period)
I Believe I Can Fly - R. Kelly
Lavender Town Theme Song
Welcome to the Machine - Pink Floyd
Bad Moon Rising - Creedence Clearwater Revival
Have You Ever Seen The Rain - Creedence Clearwater Revival
Graveyard Tran - Credence Clearwater Revival
Piano Man - Billy Joel
You May Be Right - Billy Joel
We Didn't Start the Fire - Billy Joel
Have A Cigar - Pink Floyd
Jump - Van Halen
Maxwell's Silver Hammer - The Beatles
Come Together - The Beatles
Crazy Train - Ozzy Osborne
Bad Company - Boston
Come As You Are - Nirvana
All Apologies - Nirvana
Crazy Train - Black Sabbath
Painted Black - The Rolling Stones
The Trooper - Iron Maiden
Nightmare - Avenged SevenFold
Bat country - Avenged SevenFold
AC/DC - Shoot to thrill
I Need A Hero - Bonnie Tyler
Kenny Loggins - Danger Zone
American Authors - Best day of my life
the Future freaks me out - motion city soundtrack
Imagine Dragons-Radioactive
AC/DC- Back in black
Dream On - Aerosmith
Rooster - Alice in Chains
Are You Gonna Go My Way - Lenny Kravitz (1993 release date)
Cold As Ice - Foreigner
Tomorrow Comes Today - Gorillaz
Smells Like Teen Spirit - Nirvana
Video Killed the Radio Star - The Buggles
Bullet with Butterfly Wings - The Smashing Pumpkins
My Heart Will Go On - Céline Dion
Footloose - Kenny Loggins
Blitzkrieg Bop - The Ramones
Light my Fire - The Doors
Hello, I Love You - The Doors
Clint Eastwood - Gorillaz
5/4 - Gorillaz
19-2000 - Gorillaz
Anarchy in the UK - The Sex Pistols
Creep - Radiohead
Ultra Thizz - Rustie
FUSE - Hudson Mohawke
Bad Reputation - Thin Lizzy
The Boys are Back in Town - Thin Lizzy
Don't You Want Me - The Human League
Trivia
On 1/16/14, Gusmanak said that he and ZolarKeth would add songs from the 60s-80s to be listened to.
Prior to 1/20/14, a synthesized female voice would repeat the numbers 048107 and 049047 in place of the male voice repeating numbers.
All the songs used were released during the 70's and 80's, with the exception of "U Can't Touch This" which was released in 1990.
This utility is somewhat rare, after the GPS.
As a part of a short-lived Gamepass, the Enhanced Spawn gamepass, the Personal Radio was one of the items to come with the gamepass. This gamepass has since been removed.
All songs who were scripted into the radio are from Gusmanak's profile in Audio.
Due to low signal in some places far or under the range of the Radio Tower, you may hear static noises more than music, changing the volume wouldn't help. Getting closer to the Radio Tower would. This can be used a guiding tool, the more static you hear means the further you are from the tower.
In recent update, Gusmanak from the radio suggests that the place they're broadcasting from is in a bunker.
Community content is available under
CC-BY-SA
unless otherwise noted.