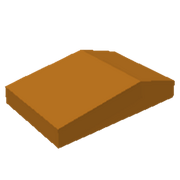 Gusmanak's Armor is admin-based clothing resembling Gusmanak's Roblox clothing. It's mostly neon-orange with some light green.
It is one of the rarest obtainable clothing items in the game, alongside ZolarKeth's armor and it is extremely rare item to find it in v5.0.0. It is mostly seen on hackers, exploiters, or just really lucky survivors/bandits. The clothing package is a neon orange color, like the armor itself. Gusmanak's Armor is rarely dropped by Military Zombies, but other spawn patterns are not known . This is the only camo/clothing, alongside the ZolarKeth Armor, which can not be purchased as a starting item.
It comes in two pieces,"Gusmanak's Armor Top" and "Gusmanak's Armor Bottom". There are many theories on how to get it, however some are proven false while others are still up for debate.
Usage
As most camos improve your hostile appearance in the game, this clothing does this opposite because of the color. This armor demonstrates that the player has played for a long period of time and has probably got an impressive, but dangerous collection of loot. However, this armor is rumored to grant extra health to Gusmanak himself; this is deactivated for a normal player and does not affect your hero/bandit status. Gusmanak's TRUE armor has a gold tint to it, designating that it is the true and real Gusmanak's Armor. The normal armor you find normally in game is an orange/bright orange armor, without the gold tint.
Ethnic Meaning
This suit gives you the meaning that you experienced the apocalypse a lot. You had enemies and friends. You have a peaceful and friendly appearance, but you are not afraid to use your gun when danger arrives.
This has a different meaning for all of players. Here's the list.
Survivors: Hello dude! You improved yourself on this game very good! We can count on you if you join us!
Heroes: Whoa bro! You did a good job murdering bandits and zombies! Good luck on your journey, friend.
Bandits: Here is our target, execute him.
Nomads: Hello, I'm sure that you traveled a lot and killed tons of zombies. We can be friends if you want.
Marauders: No matter what I will find you and kill you in the most painful way.
Other professionals: Hi, we need your guns and skills. If you join us, we will never betray or let you down. Come, join us and we will strike fear into others hearts.
Merchants: Hey there buddy! That is quite the piece of loot you are wearing! How about I give you some Dr. Pepper and this Scar-L, and you give me that fine piece of armor in return?
Noobs: Hax0r !!!
Trivia
In the Apocalypse Games, Gusmanak's armor is described as the Sand Camouflage uniform instead of the armor itself.
There is only one more rarer piece of clothing in the game than this, Zolarketh's armor.
It can be seen easily in the dark and can put a label on you as a hacker.
Gallery